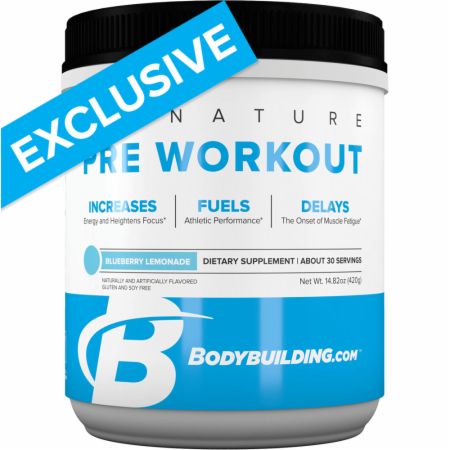 Bodybuilding.com Signature
Signature Pre Workout
Energizes and Delays the Onset of Muscle Fatigue*
Increases Focus and Fuels Athletic Performance*
Ratings & Reviews
Signature Pre Workout
Overall Rating
7.7
236 Ratings
Verified Buyer Rating
7.7
180 Ratings
Average Flavor Rating
7.4
7 Flavors
Top Rated Flavor
8.1
Fruit Punch
By clicking the button above, you agree to entering the Bodybuilding.com Reviews section. Products in the Store are not intended to diagnose, treat, cure, or prevent any disease.

Loses effectiveness after a few scoops. If its aftertaste had a dance move, it would be called the sphinctersweat shuffle.
Was this review helpful?
Report

The flavor is fine, but the actual effectiveness was not there at all. For the first few minutes after it kicked in I felt a buzz and was extremely focused. However, as fast as it came it was gone. I didn't even get through my first exercise's working sets before I started to come down. After I came down, I felt weaker than when I don't take pre. Not only did my strength disappear, but I had a WORSE PUMP than without pre as well. I felt so sapped after my first exercise I couldn't even get myself to finish my second. Even after hitting warm ups and a working set I had barely any pump and was struggling to rep out my usual weight. I was worried when I saw the reviews for this and bb scream, but for the price I thought I would try it. I definitely regret that decision.
Was this review helpful?
Report

Terrible - would not dissolve completely - chunks of powder left floating in top of glass; flavor is horrible - almost metallic tasting
Was this review helpful?
Report

Great price for product. Perfect amount of caffeine for me and good pumps. The blueberry lemonade is boring. Taste like typical pre-workout. The tropical pineapple is amazing! Definitely recommend trying it out if you want something that doesn't taste like a pre-workout or if you like tropical drinks like pina colada. Mix it with coconut water for added electrolytes and flavor.
Was this review helpful?
Report

Great flavor, but you'll need two scoops of this to get any kind of decent pump.
Was this review helpful?
Report

This is an amazing product, especially for the price. Clinically dosed ingredients shown on the label. Flavor was good not great, but that is not especially important to me. Energy came on strong and felt clean. Also gave a decent pump. This is definitely my new "go to" pre workout. Pick up a tub and enjoy!
Was this review helpful?
Report

It seems as I am not the only one to suffer the side effects of this pre workout. First of all, the tropical Pineapple flavor is atrocious, I could not drink it with water and had to resort to dry scooping, even then, it was bad. I have seen other reviews of people suffering from nausea. I had the same side effects. Don't get me wrong, this pre workout WORKS. But after my workout I struggle to eat due to the bad nausea. I do not believe it to be the caffeine as I've taken much stronger and have been perfectly fine.
Was this review helpful?
Report

Honestly because of the overall review, I was a little hesitant to purchase this but I'm glad I gave it a chance. Really good preworkout it gives a good lasting pump. Take your chances on it, you'll be glad you did.
Was this review helpful?
Report

Terrible aftertaste, has the consistency of a really thick bloody mary no matter the amount of water used and even though i've taken higher dosed preworkouts before, this it has given me really bad nausea each and every time within 40 minutes. Leaves clumps of what looks like Styrofoam on top too.
Was this review helpful?
Report

This has to be the best pre-workout I've ever had. Fruit punch tastes delicious! It tastes like Cherry Kool-Aid, I'm not kidding! Definitly not sour/bitter tasting like Pre-Jym. Sticking to this as my main pre-workout from now on.
Was this review helpful?
Report

If I didn't drink this after 9 hours of work before heading to the gym, my workouts would suffer. This definitely helps and tastes good too.
Was this review helpful?
Report

I don't understand all the negative reviews. A real preworkout is supposed to provide quality key ingredients, not of bunch of fillers and additives. Anyways, preworkout was solid, if you want more boost, take 2 scoops. Used a bunch of preworkouts, this one is one of my top favorites. Gets to the point and allows my workouts to be solid. I wish the dosage for L-Citrulline and Beta Alanine was a bit higher, otherwise, for the price the preworkout is solid.
Was this review helpful?
Report
What's this? A Pre-workout that's not full of BS garbage, just the stuff that's known to work? Who does that? Very few supps companies, and they're about 2-5 times the price. Nice work BB.com. Some folks seem to have issues with the taste. I have no idea about that. I dump the scoop in my mouth and wash it down with water. Lifting within 30 minutes. Nice pumps, and vascularity. Note: I'm a caffeine junkie, so I get no real energy boost from it. If you don't ingest caffeine like an idiot like me, it'll probably put some pep in your step. Also like the additional electrolytes. Walking about 20 miles a day, this helps to keep cramping from screwing up leg day.
Was this review helpful?
Report

I have tried 3 other pre-workouts and sadly, this is the worse amongst the 4. I feel no increase in strength or any stimulation to power my workout. Instead, it gave me sleepless nights, resulting to difficulty in working out the next day. Hopefully BB will improve their formula.
Was this review helpful?
Report

I've tried em all. Original c4 new c4 vaporx... I purchased a BUNCH of BB products before the end of the year we had to force ourselves to down the body building brand preworkout. It was rough.
Was this review helpful?
Report